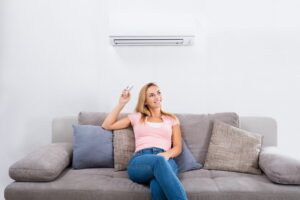 If you've invested in a heat pump then you are likely living with the benefits of this system's effectiveness and efficiency. There's a reason that these systems are increasingly popular.
We aren't trying to ruin your good mood but we do need to remind you that heat pumps, while impressive, aren't immune to trouble. Over the years, you'll need to schedule a heat pump repair in Red Lion, PA at least once.
Curious about how often your system may need expert help? We can answer that question and others.
How often might a heat pump need repairs?
Repairs will be a necessary service for any home comfort system, even a heat pump. Wear and tear take their toll over the years and the result is worn-out parts that need repair or replacement to keep the system running.
On average, a well-maintained heat pump that is used throughout the year is likely to need repairs every three or so years. The need for repairs can be minimized with regular maintenance and optimal system use. It is important to remember that, when repairs do pop up, you will want to schedule them promptly and with a professional technician.
How often does a heat pump need maintenance?
We mentioned that maintenance helps to keep repairs to a minimum and that is true. However, it's only true if maintenance is done regularly. The question that comes naturally at this point is how often maintenance is needed.
Heat pumps need maintenance twice a year. While your first instinct may be to think this sounds excessive, the truth is that it's just enough!
See, heat pumps work all year long as both your air conditioner and your heater. That means that while you only have one system, it does twice the amount of work. Wouldn't you want to keep up a system that can do that much for your home? Plus, regular maintenance ensures great energy efficiency too.
How often does a heat pump last overall?
Now that you know how often a heat pump needs professional upkeep, you should be in good hands. It is good to know just how long maintenance and repairs will be enough to keep your heat pump running though.
The average heat pump will last between 10-15 years before needing to be replaced. We say this because you can get ahead of a full system breakdown by preparing to replace your heat pump when it reaches this age range. Even with regular upkeep. your heat pump is going to start to wear down around this age range. Without proper upkeep, the lifespan is even shorter.
A heat pump is an investment in your home comfort. You don't want to waste that investment by neglecting it. The thing is, all you need to worry about is reaching out to a professional technician to ensure that your system gets the maintenance and repairs it needs.
Committed to Service, Committed to You, Since 1974. Contact Regal Plumbing, Heating and A/C to schedule heat pump repairs and any other HVAC service you need.