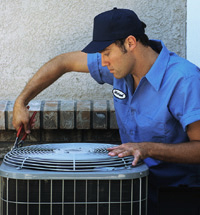 Did you know that the installation of your air conditioner can play a huge role in how efficient it is? If your AC is not installed correctly, you may be spending more on energy bills and shortening the life span of your unit because of more wear and tear.
That's why it is important to have the highest-rated technicians installing and working on your AC unit. If you're interested in central AC installation in Red Lion, PA, our team is here to help, and we are the best of the best. You can keep reading to learn about why it is important to hire a company with NATE-certified technicians just like ours. 
What is NATE?
The NATE acronym is short for North American Technician Excellence. It is a nonprofit certification organization located in North America that was established to ensure customers can verify an HVAC technician's credentials. Anyone can go to school and earn the certifications to work on air conditioners and heaters. A NATE certification tells you that your technician has gone above and beyond to ensure they are the best of the best in the industry. The certification is a rigorous series of examinations that ensure technicians know everything there is to know about installing, maintaining, and repairing HVAC systems. 
Expert Technicians
Our team are experts in the industry. All air conditioners and heaters are not created equally, and our team knows that. We understand the little nuances that make systems and brands different, and can help you understand the best ways to use and maintain your unique air conditioner for energy-efficient outcomes and a long lifespan.
Get the Job Done Right
A NATE certification also means that you know the job will be done right the first time. If you need a repair, our team will go the extra mile to make sure everything is fixed and your AC is working at its absolute best. We don't just fix AC problems, we get down to the root cause and do our best to make sure that you won't face the problem again.
When it comes to installation, we take our time and do it right instead of rushing. We understand how crucial installation is for your AC's day-to-day operation and even for its total lifespan. Our goal is to help you get the most out of your investment from day one. If you ever have questions in between maintenance visits, you can give us a call. 
Always Up-to-Date
And once a technician's certification is complete, that's not all. They continue completing education over the course of their careers. When you hire one of our technicians, you can know that they are on the leading edge of air conditioning and heating best practices. Hiring technicians that aren't NATE certified may mean sacrificing quality to save a little money.
Contact Regal Plumbing, Heating and A/C to schedule an appointment for AC services. Committed to Service, Committed to You, Since 1974.