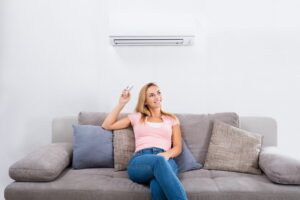 If you're thinking about replacing your current air conditioner with an upgraded model, now is a great time to do so. The heat of summer has not set in yet so you still have time to do some research and make the right decision for your home and family. In fact, that's exactly what our team is here for.
We don't just do AC installation: we can walk you through it, step by step, and help you feel confident you're making the right decision. We are the local experts at air conditioning installation in York, PA. Keep reading to learn more about your various options, and then give us a call for your in-home assessment. 
Duct Vs. Ductless AC
The first thing to consider when it comes to a new air conditioner for your home is whether you want a more traditional unit that has a system of ductwork, or if you want to go with a ductless AC. Both have their own unique pros and cons.
If you already have an existing AC with ductwork, it can be easier to install another AC that requires ductwork. The ductwork is already in place, and all we have to do is install and connect your new system.
But, a ductless system offers benefits, too. If you are cramped for space and would like to get back some of the areas that your existing ductwork takes up, a ductless system can be a great investment. Plus, a ductless unit is usually about twice as energy efficient as a more traditional air conditioner. 
Keep in mind that a ductless AC can cost more upfront to install, but there are some really great energy-saving tax credits that the federal government is offering right now. You may be able to recover some of that upfront cost when you file your taxes next year. 
Energy Efficiency
You also want to take energy efficiency into consideration. Each air conditioner comes with a SEER2 rating that indicates how well it uses energy to cool your home. The higher the rating, the less energy the system has to use to produce results. It can cost more upfront to invest in a highly efficient air conditioner, but it's an investment that will pay off over time. 
When your air conditioner is more efficient, your energy bills will be lower each month. This allows you to save more over the life of the air conditioner. Plus, a more efficient air conditioner doesn't have to work as hard, so it does not take on as much wear and tear. This could mean that your air conditioner will last longer than what is considered average. Of course, you still want to invest in annual AC maintenance to stay on top of any potential problems. 
Contact Regal Plumbing, Heating and A/C to schedule an appointment for air conditioning service and other home services. Committed to Service, Committed to You, Since 1974.