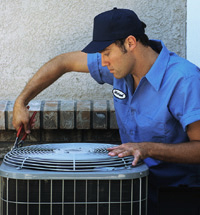 If your air conditioner worked great all summer long last year, you may have skipped out on post-season maintenance. The good news is, it's not too late to go ahead and schedule maintenance now before your air conditioner takes on the heat of summer again.
AC maintenance is crucial at this time of the year because your air conditioner has gone unused for around half of the year. If there were any existing problems that you didn't already address, they may have gotten worse during this timeframe. If you need to schedule air conditioning maintenance in Dover, our team can help. You can keep reading to learn more about why AC maintenance is so important, and what you can expect during your appointment.
Benefits of Being Proactive
You have two options when it comes to addressing problems with your air conditioner. You can either take a proactive approach or a reactive approach. When you are proactive, you schedule AC maintenance every single year to stay ahead of problems. When you are reactive, you wait for problems to come up and then address them at that time.
Many homeowners think that skipping out on AC maintenance is a way to save money. Sure, you don't have to spend anything extra on that preventative step, but the costs can add up later on instead. When you skip AC maintenance, small problems in your air conditioner have an opportunity to get worse–and fast. By the time you begin to hear unusual sounds or notice an impact on how well your air conditioner can cool, it may be too late. You may be facing a very expensive repair bill.
Potential Savings
It's time to change the way you view AC maintenance. Instead of thinking about it as an expense, you should look at it as an investment. In fact, it's an investment that has the potential to save you hundreds if not thousands of dollars on future AC repairs. There is no way to tell for sure how much you could save. But, you could find out how much various repairs cost for major components within your AC and compare that to the cost of annual maintenance.
Energy Efficiency
When you take care of your AC, it's going to be more efficient to operate. When your air conditioner uses less energy, your energy bills for the month will be lower. While you may only save a little bit each month, those dollars can add up over the life of your AC unit. You can also consider that better energy efficiency also equals less wear and tear on your air conditioner. 
Indoor Air Quality
Another benefit of regular AC maintenance is the improvement in your indoor air quality. When your AC is working at its best, it can filter out dust and dirt with greater ease. If your air conditioner is having problems, there's a greater likelihood that allergens and dander are recirculating through your air.
Contact Regal Plumbing, Heating and A/C to schedule an appointment for AC maintenance and other home services. Committed to Service, Committed to You, Since 1974.