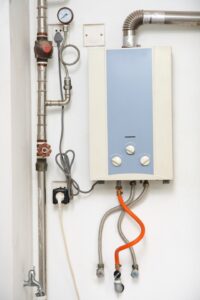 You know that HVAC specialists work on heating and cooling systems. You also know that plumbers work on all of the pipes and water fixtures in your home. But who works on your gas lines? Since gas lines are very similar to the pipes used for plumbing, plumbers also have the certifications to work on your gas lines.
In fact, a plumber is just the right professional you'll need for any gas services including gas piping in Red Lion, PA. You can keep reading to learn more about why gas services require a certified professional, and why you want to choose plumbers over anyone else to work on the gas lines in your home.
Trusting a Professional
Just like other systems in your home, your gas lines need maintenance too. Safety is a big concern and a reason to maintain your gas lines. Additionally, you want to prioritize taking care of all the gas appliance connections for safety reasons. If any gas lines have a leak, you face major fire hazards for your home and family. Fire risks aside, you also risk breathing in the fumes. Doing so can be dangerous for your health and even fatal. We recommend having your gas lines inspected at least once annually.
Having a certified professional look at your gas lines is also an opportunity to identify problems that may be just beginning to develop. It's common for our customers to have a single concern they want to get checked out. To an untrained eye, it's easy to fix that one problem and miss anything else that is wrong. There's also a chance that any gas line issues actually have a larger root cause to address. 
Other Times You Need a Professional
Maintenance aside, you may also have other gas service needs. These can include gas line repairs or refilling a gas tank if you have one on your property. We know that the costs associated with gas line services can add up quickly. But you won't really be saving by having an unlicensed professional do the work. You don't want to try and save money by hiring just anyone to work on your gas lines or refill the outdoor tank. Aside from being risky, doing so may even be against the law. 
Gas service professionals are required to hold certain credentials to work in the field. Many of our customers are surprised to find out that a certified plumber is who you want to work on your gas lines. While all of the pipes and connections are not exactly the same, a plumber has significant experience and knowledge in the service industry. They even earn additional gas service certifications to ensure they have the specific skills they need. The more knowledge, experience, and education that your technician has, the better. 
We hear all the time about well-intentioned friends or family members who offer to help with gas services. We encourage you to think twice before accepting. If the person offering to help doesn't have the proper education and credentials, they can easily do more damage than good. It's also illegal to work on gas lines if you're not properly qualified.
Plus, if the gas line services require a permit or inspection as is frequently the case, you will incur additional expenses as a result of this DIY project. When an inspector finds that gas line work has been done without a licensed gas service provider, you will need to have the work done over again.
Contact Regal Plumbing, Heating and A/C to schedule an appointment for gas line services and other home services. Committed to Service, Committed to You, Since 1974.