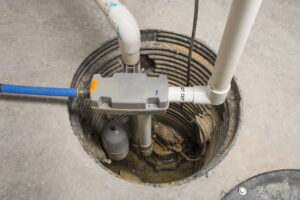 If you live in a flood zone, you may be concerned about water damage to your house. And even if you don't live in a flood zone, having a basement can make it more likely that your home will flood even without being in a flood zone since a portion of your home is under the ground. A sump pump is an addition that you can make to your home to help prevent water damage.
If you are interested in scheduling sump pump service in Dover, PA, our team is here to help. You can give us a call to schedule your in-home estimate where we will go over how a sump pump would work on your property. You can also keep reading to learn more about the benefits of having a sump pump installed.
Protect Against Flooding
The goal of a sump pump is to prevent water from flooding your home. Sump pumps are particularly effective for homes with basements. When it rains, it's easy for water to leak into your basement and cause damage. Plus, once water gets in it can be very difficult to get it back out again. A sump pump automates the water removal process so that you never have to worry about standing water in your basement from a flood or excessive rain.
Reduce Humidity Levels
An inadvertent benefit of a sump pump is that it can help control humidity levels in your home. If standing water tends to be a problem, eliminating that water can lower humidity levels inside your home. When there is more moisture in the air, your home will naturally feel warmer than it really is. Warmer air can make you feel less comfortable. But with a sump pump removing water away from your home during and after a storm, you can enjoy more balanced humidity levels inside of your home.
Prevent Mold and Mildew
In addition to comfort, reducing humidity levels also reduces the likelihood that you will face mold and mildew growth because of the extra moisture. It's obvious that standing water increases the likelihood that you will experience mold or mildew growth. But higher levels of humidity can do the same thing–no standing water necessary. 
A humid basement is actually the perfect environment for mold and mildew to begin spreading. It tends to be darker and the humidity can seep into your walls and the contents of your basement. Once mold and mildew develop, they can spread quickly.
Increase Property Value
A sump pump is also a great way to increase your property value for the future. Of course, you'll enjoy the immediate benefits of a sump pump, but you also get a long-term return on your investment. If you ever sell your house, the sump pump will increase your home's value. 
This is especially true if you live in an area where flooding is a risk and water damage is more likely. The likelihood of flooding could be a downside for anyone looking to buy a new house. But a sump pump helps to alleviate some of that worry since it's in place to prevent flooding and water damage.
Contact Regal Plumbing, Heating and A/C to schedule an appointment for sump pump and other home services. Committed to Service, Committed to You, Since 1974.