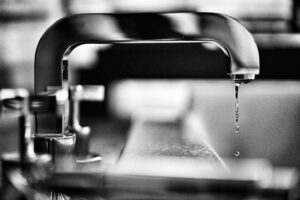 It's the holiday season and that means you'll be entertaining more. Imagine having friends and family over for a holiday gathering when suddenly you're faced with a plumbing issue that can't be ignored. A lack of hot water, a clogged kitchen drain, or a major leak are things that can quickly cause your holiday party to go from fun and festive to bah humbug.
For certain kinds of plumbing issues, there are things you shouldn't ignore or try to fix yourself. Here are some examples of when you should reach out to our team for plumbing services in York, PA. We'll get the problem solved so you can get back to the festivities with your guests.
1. Gas Piping Services
Did you know that a plumber is the person to call for help with your gas lines? This is because the piping and connections for your gas are almost the same as those used for the other parts of your plumbing services. It's important to make sure that repairs or other work on your gas piping are handled only by a trained professional for the sake of legality and for your home's safety.
2. Main Water Line Issues
You need a steady, reliable water supply to keep your home's plumbing appliances functioning. Any issues with your main water line that aren't caused by the municipal supplier are not only a reason to call a professional plumber, but they're also worth a call for emergency services. One of our plumbers can arrive quickly to address leaks or other problems with your main water line.
3. Leak Detection and Repair
Speaking of leaks, there's a large network of pipes in your home that can develop leaks. The sooner that any leaks in your house are caught, the better. That's why our team provides both leak detection and leak repairs. We have technology that helps us locate possible leaks and patch them when needed. This can help prevent damage to walls and floors, along with preventing the growth of mold.
4. Water Heater Services
No one wants to lose their access to hot water. Make sure that you work with our plumbers to keep up your water heater. We can help you choose and install a water heater in your home, maintain your current water heater, and repair a malfunctioning system so that it works properly. A lack of hot water is a major problem no one want so suffer through so make sure to get your system checked out to prevent this from happening.
5. Bathroom and Kitchen Plumbing Help
Most of your plumbing appliances can be found in bathrooms and the kitchen. Make sure that these appliances and the plumbing that is attached to them are working correctly. If you need help with a toilet that keeps running, a leaky showerhead, or a leak in the sink under your drain, you can count on our team for service that will fix the problem. We can even help you upgrade your plumbing appliances to options that save water and energy.
For your plumbing needs, contact Regal Inc. Committed to Service, Committed to You, Since 1974.