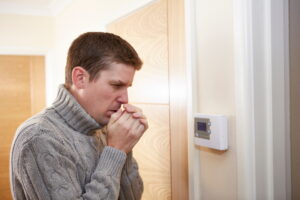 The change of the seasons is a regular reminder that change is inevitable and nothing lasts forever. This concept applies to your heater too (even if in a less philosophical way). If your heater is on the cusp of giving out, then you'll want to get ahead of the change by getting your replacement started soon. There's no point in wasting money on a system that is going to break down sooner than later.
If you aren't entirely sure how to determine when you need a heater replacement in York, we want to help. Here are the warning signs that will help you determine if you should contact us about a replacement.
3 Indicators You Need a Heater Upgrade
Not sure what to ask Santa for this year? Why not put a heater replacement on the list? Here are three signs that the time has come to get a new heater in your house.
1. Current System Age
If your heater is old enough to qualify for a driver's license, then it's likely time to start considering a system replacement. The minimum lifespan for most heaters is 10-15 years. Many heating systems can make it closer to the 20-year mark before needing to retire.
However, the estimated lifespan of a heater is based on the assumption that it's had proper upkeep. Ideally, its filter has been changed on a regular basis and has had routine maintenance from a professional HVAC company such as ours. In either case, this means that once a heater hits that 15-year mark, it's time to start thinking about a replacement.
2. Frequency of Repairs
How often have you had to call for repairs to your heater? If you only need to reach out for repairs every few years and your heater works well otherwise, then things are probably going along fine as they are for now.
On the other hand, frequent repairs indicate that your system is in decline. If you need repairs on a yearly basis, you're probably better off replacing your heater rather than spending money on a repair on a system that's due for replacement soon.
3. Cost of Repairs
Maybe you don't need repairs often but your repair bills are getting harder to manage. This is another indicator that your money may be better spent on a replacement. If the cost of repairs is equal to half or more of the cost of a new system, we strongly advise forgoing the repair in order to upgrade. You can ask about our financing options to make the upgrade even easier on your budget.
If you've noticed these indicators or you just want to have your system assessed, our team is here to help. We can diagnose what's going on, help you decide on the course of action that works best with your needs and budget, and even help you choose your next system. We'll do whatever we can to ensure that you can keep your home warm without a hassle.
Committed to Service, Committed to You, Since 1974. Schedule your heater replacement today with the team at Regal Inc.