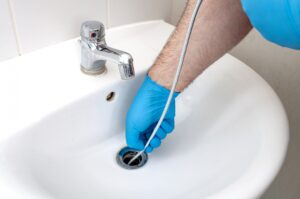 Sometimes plumbing problems are fairly easy to fix. Other times we have to use additional tools to locate and fix a problem that is deep in your plumbing system. The good news is, our team has all the tools we need to complete any plumbing job in your house, big or small.
If you need a video pipe inspection in Dover, PA, our team can help. Keep reading to learn more about when you might need a video pipe inspection and how we can use the tool in your plumbing system.
What Is a Video Pipe Inspection? 
A video pipe inspection is just what it sounds like. Our team attaches a very small camera to the end of a snake line so that we can see through your pipes. We can insert it into any drain line and channel it through your pipes until we get to the source of the problem.
The video camera allows us to see corrosion inside of your pipes or the substance of clogs so we have a better idea of what's going on. We may need to employ the use of different tools for different problems.
Hard-to-Reach Places
If you have a clog or other plumbing problem that is deep in your system, it may be under the foundation of your home or even in your yard. We want to be able to identify the problem without having to dig up your yard or take anything apart.
Identify the Problem Precisely
Being able to identify a plumbing problem precisely allows us to do less work and limit disruptions to your home and yard. Plus, a video pipe inspection doesn't just allow us to find the problem, it allows us to get an idea of how severe it is and what other tools we need to fix it.
Sometimes it's not even a clog that is causing problems. Instead, a tree root may be going through one of the pipes in your yard. The question is, which pipe and where? When we can identify the problem precisely, we know exactly where to dig and fix the problem quickly without spending a lot of time searching.
Check the Quality of Work
There are also times that we use a video pipe inspection to check on the quality of work. Once we complete a particularly difficult repair job, we may insert the video camera back through your pipes a second time to make sure that the repair is secure, and there are no other issues.
For example, we may fix a clog in your yard by first identifying it with a video pipe inspection and then using our hydro jetting tool to break down the clog. A second video pipe inspection is a great way to make sure that the clog broke down completely and even take a slightly deeper look past the clog to make sure there are no other issues we might have missed. 
Contact Regal Plumbing, Heating and A/C to schedule an appointment for a video pipe inspection. Committed to Service, Committed to You, Since 1974.